11 tags
Secret Names
I have a secret name, you know. I know that it is a secret, because even when I tell it to people, they don't believe me, or else they laugh and say it's strange, and anyway, they never use it. It's mine, and it echoes in my head in someone else's voice (always, always in that voice, because I clung to it, and ran it through the ridges of my mind, until it formed a...
14 tags
Wheeeeeeee, Oof!
Wheeeeeeeee, Oof! That's the sound I made Tumbling down into another decade. Wheeeeeeeee, Oof! That's the sound that came From the next ones who tumbled down the same. They landed on top of The ones who fell before. We landed on the lot of Those already on the floor. The conveyor belt rolls on And more are falling now. There's no way you can hold on, Just shout on the way down. ...
11 tags
Balance
There is a balance to be struck, and I am often struck by the balance: it crashes down on my shoulders, (wide, wide, look at the size of her back, they said), and I am Atlas. Stand tall, they say, stand taller, and smile, and the world pushes down on me. We strike the balance, and the balance strikes, and we are pushed down, down down to the ground (stand tall, stand taller) and the clock...
11 tags
Substance
I am the wind. I am the wind and people walk through me. They don't even have to lean forward. (I have leaned forward on days when I was not the wind. Now I howl, and I howl, and I howl, but I keep no one awake but myself.) People step outside, and I ruffle their hair, or toy with their skirts just for a moment. Sometimes I blow a little dust into their eyes. That bothers them,...
13 tags
What can I say?
Here's a funny little poem about something that happened to me the other day: "What the fuck!" This would make a terrible epitaph, I think to myself, and then shout it again, and again. The car honks, insistently. I suppose the horn is not the most insistent thing about it. The way that it swerves around pedestrians as they scatter, the way it speeds up as it...
12 tags
Crescent Moon
"I like your chin." That's what I wanted to say to the girl on the bus. I thought better of it, though. I thought it might not go over as well as "I like your earrings"  or "I like your scarf" or the silence we usually hope for on the bus. Her face was like the crescent moon, and her chin was long and pointed and her mouth as she got up, two stops before mine, was long and pointed,...
13 tags
Fohnkrankheit
Woosh, thump, thud said the wind. Jesus, I said, I get the point. The wind didn't believe me, though, and it screamed at me all night long. I lay awake, and sang and rhymed and wondered what I had ever done to it. (The wind has never liked me—when I lived in the place before, it would break my sleep with strange dreams, on the nights when it let me sleep at all. That place...
10 tags
The Flood
The flood reminds me of home: not my home, not any home I have now, but the one I had, before it broke (and can't be fixed, and they never made a patch or a stitch that could sew back together what they took from me. Us. I'm being selfish.) But that was home. Where I started to figure it out really, they way most people do so much sooner, and the way I wouldn't...
11 tags
Winter Chill
Feet and hands are blocks of ice, tips turning white, and butter, left on the counter for hours, does not soften. I turn up the heat and crouch next to it, waiting for a blast of warmth. When it comes, it is unsatisfying. Come and curl up next to me. I have no warmth to share, but you seem to have more than enough for two. My breath mists in the air. Let me tuck my hands under your...
9 tags
Click.
Click. Click. Click. No students today. Click. Click. Click. One hour to go. Click. Click. Click. Good god, will somebody please post something fascinating on Facebook or on Reuters or anywhere at all that I will see it. Click. Click. Click. This cold has rendered me incapable of meaningful action. Click. Click. Click.
9 tags
The Cold
This cold is just bad enough to keep me from being remotely productive, but not bad enough to keep me comfortable, at home, in bed. Mom. Mom. I would like some more soup, if it is not too much trouble, given that you live several thousand kilometres away.
9 tags
Winter Storm
I was, I must admit, caught by surprise this morning, when, only moments after the sun slipped away behind the clouds (or so I assume—it got darker, anyway, but I was making my tea and not looking out the window) but at any rate, only moments after that sudden darkness, a great rattle and clang set my fire escape ringing and dancing. At first, I thought that my upstairs...
8 tags
Distractions
I have been a bit distracted. I know this, because I keep causing myself tiny, but hilarious injuries. (They're not hilarious at the time, being painful, and embarrassing, and resulting, for the most part, in hissed obscenities and bloodloss but in retrospect, given about five minutes to think, I generally can't help but giggle). Yesterday morning, while slicing a roll for...
9 tags
Thaw
I was (more than) ready for it to be Spring. That's why I left my apartment without my gloves or my hat or anything else that might make me look like a sensible, well-prepared individual. The sun was shining, and it had been so warm for so long (at least three days), even though it snowed yesterday, big flakes drifting down with wide spaces between them that melted when they...
9 tags
Mumble
Does anyone else ever get the feel of a word stuck in their mouth? Not the meaning of it (meanings being the strange and shifting things they are) but the sound. The writhing, moving round or sharp tingling sound of it, so it rolls around your tongue and traces its way up your throat and if it ever had meaning (whatever that is) it's gone now and all that's left is...
8 tags
Red Door
There is a door in the wall across from me. I hadn't noticed it before. But then, I haven't been here that often yet. It's red, or burgundy, or a reddish brown (they say that women are better at distinguishing colours, that we have more names for them, but I have never had the confidence to stand behind such subtle delineations in a thing that doesn't even exist in the...
11 tags
Old Woman
Look, everybody, more poems: The woman was tall And elegant And old. Her hair was drawn back Softly, silver grey. How did this happen? She asked. I am old. I am old and I am ugly. When I look In the mirror I don't see me. My mother took her hand. I don't know you She said But I see beauty. The woman pressed her hand And thanked her. My mother looks in the mirror. I am old She says I am old and I...
5 tags
Ritual and Repetition
Here, universe: have another poem. Ritual and repetition. My aunt painted it. Two herons, each reflecting the other. Their eyes meet. Their beaks taper and swell, indistinguishable, and the setting sun sets their wings aflame. I know the reeds in the painting. They are on fire, too. Not in her picture. In my memory. Burning torches on an icy lake that I will not fall through this...
8 tags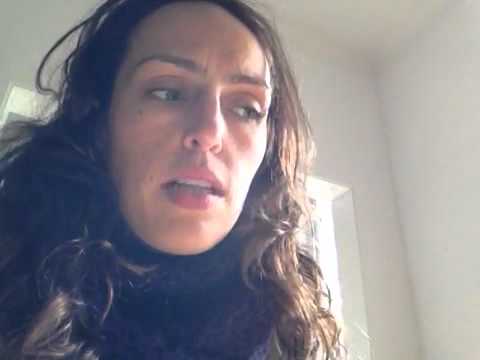 10 tags
Supper Time
That salad was delicious. But it was not enough to keep me from helping my roommates to decimate some Indian take-out. I say decimate. I mean we ate it all. Rather than a tenth of it. Don't be such a pedant.
8 tags
Dolphin Drills
The water is cold, but never cold enough. In the lane that should be two, old ladies walk back and forth and one thin, thin woman lies back in the water, her skinny arms covered in thick hair. Their movements are awkward. But then, that is coming from the girl with the flutterboard in the fast lane a bifurcated mermaid humping the water like a thirteen year old with a pillow as...
8 tags
6 tags
Long, long overdue update
Poem for Fall. [[MORE]] Grey Sky The sky is grey. It will be grey for a long time. Under my feet, the leaves crunch crunch crunch and smell sweet and soft. They decay. I am pretending it is summer. I wear short skirts and walk for miles in shoes that do not protect my feet. Where are my socks? The night air is chilly through my open window. I will not close it or turn on the heat. Shadows crawl...
7 tags
7 tags
2 tags
8 tags
8 tags
8 tags
8 tags
8 tags
7 tags
9 tags
11 tags
7 tags
8 tags
6 tags
5 tags
7 tags
7 tags
5 tags